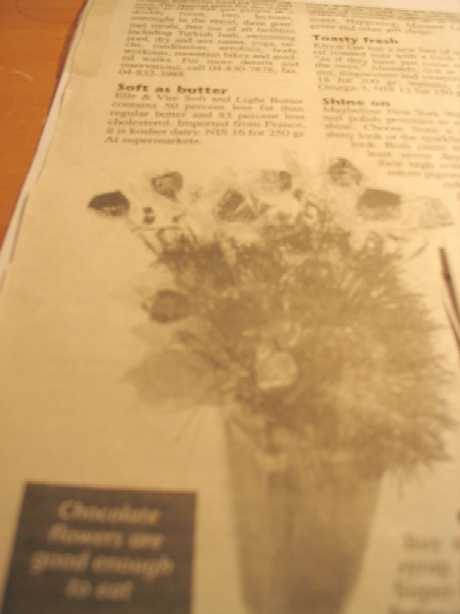 As it appeared in the Jerusalem Post
All our products are Certified Kosher by local orthodox authorities.
Clients' testimonials... real comments...from real people. …
From my daughter:
"This is the most classy present I've received! It's beautiful! Love you both!"
Thanks so much for making Lucy's parents look good!
Shabbat shalom, Helene & GiftIsrael. I'll be sure to recommend you!
Appreciatively,
I wanted to thank you so much for your great service. It can be nerve wracking to order something this sensitive half way around the world, but you helped answer all my questions, you were very responsive and worked with me to make it a smooth transaction. I received word that the two shiva baskets arrived to my family in Bat Yam
on Monday
and that they were beautiful. I was also told that a call was made before delivery to find out what was the best time for delivery-- now that's great service! I will definitely keep you in mind for other family affairs... G-d willing they only be happy events. Thanks again,
Doreen
You have terrific service. We will continue to utilize your great company for our Israel gift needs, for sure. Happy Hanukkah!
She sent me a text and pictures. She was surprised and very happy. She and the other ladies were all blessed by your awesome baskets. Thank you so much. How much do I owe for the delivery? Sorry it was so difficult, but it is greatly appreciated by my wife and friends. Mark...Thank you as always excellent service I recommend your website to everyone. Your products are amazing and your customer service as well. Hag sameach. Elisa
....this is naomi from australia. i just wanted to thank you for taking care of the delivery to my sisters. they both received their chocolates and were thrilled. i have bookmarked your website for future reference! thanks again and kol tuv,naomi
...Ispoke to Malka and she said the arrangement was beautiful. Thanks for taking care of the gift. Kind Regards, Sarah
..I recently sent a gift basket of your chocolates to a friend who was recovering from surgery. SHE LOVED THE GIFT, she her family enjoyed the chocolates immensely. I have since passed on your web site address to friends who want to support Israel by purchasing goods from Ha aratz. They think these floral chocolate gift baskets are an amazing idea. May your business go from strength to strength.
Regards Debbie Sinsofsky. Toronto Canada
...we called Gershon to sing Happy Birthday and he had the gift and was thrilled.
Thanks so much for everything. His daughter had given me the wrong date so you saved the day! Ellen
....As always thanks for sending an excellent product
...Thank you very much the gifts were well received.
...My friends were thrilled with your delivery. I will use your service again! Shana Tova
... I just received the thank you letter for the beautiful gift, which you prepared. They were so thrilled that not only did they describe every detail of the gift pack but they also took an electronic picture and plan to send it to me when they get their software working again. You did make "many ones" very happy, including me! :-) Best always, Aviva

...Thank you. What customer service! Nissan
...Thank you so much...a great hit with the kids, you are the best!! Have a great day...
...My cousin received her chocolates and was so excited you can't believe...she was thrilled ...your candy also finalized a plan we have had now for 32 years...she will be coming here in April to see me after all these years...I am so happy about that and your bouquets just bring luck and happiness...thank you again...
...My father just called me and he was thrilled with the gift...he just loves it...thank you so much. ***Thank you so much! This gift was a big success my friend could not believe her eyes. She called yesterday and said how pretty it was, how special and the chocolate so tasty! I will tell my friends about you and keep you in my mind for future occasions. Kol ha Kavod!
...Just to let you know the package was received with great joy...thanks again,...will be in touch again soon...
...the Canadian orders arrived on Friday right before the holidays.. the one in Montreal was so touching because she is a long LOST RELATIVE I found 2 years ago and she was so excited and TOUCHED BY this gift. she said it was beautiful and she was going to use it a centerpiece on her table (as I did also)...the other one in Ottawa was also THRILLED and you just made everything so perfect as always...
...THANK YOU AGAIN SO MUCH...THE CHILD WAS THRILLED AND THE FATHER SAID SUCH EMOTIONAL THINGS I ENDED UP CRYING IN FRONT OF THE OTHER KIDS!!!!!! BUT THEY LOVE ME SO THAT WAS OK...GREAT GOING...I LOVE ORDERING FROM YOU HAVE A GREAT EVENING
...God bless you. Thank you very much for taking the trouble of not only replying to my plea but also contacting my daughter on the phone. She was thrilled and surprised. If there is any assistance needed in India, where I can be of any use, please do not hesitate to let me know. Thanking you once again, Bharat B. Modgil
....Thank you ! My daughters' friend was delighted with the gift and will pass your website on to friends to use. Warm regards Michelle Blutman
….. Just wanted to let you know that the gift arrived at my mother's and she already called to tell me how beautiful (and delicious) it was. It was a pleasure doing being with such an efficient and customer friendly company. Thank you! Diane Field
....Thank you for keeping me posted. You don't know how grateful I am to you. You have a customer for life, but i just don't know whether you want me as a customer since this has caused you so much inconvenience. As you said, it's a shame that it's so close and yet so far.

...I honestly appreciate everything you did for me. Your customer service is excellent. I wish we had more like you in the business world because it would make life easier for those who need the service. I don't know what else to say but Thank you! Thank you! Thank you!
You can place an order on line or email us at: orders@gift-israel.com
Any question? Do not hesitate to contact us at info@gift-israel.com
www.gift-israel.com
Tel: 972-9-951-4691
Cell: 97252-242-7548
Fax: 972-9-957-4981
Herzlyia, Israel